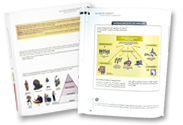 SOCIAL SCIENCES AND LANGUAGE INTEGRATED CURRICULUM (SSLIC)
SSLIC is the acronym used for the second cycle of the project, for the years ESO 3 and 4 (14-16 years). The materials for this stage consist of social science materials in English (Geography and History) and materials for the English syllabus which are designed to support the social science concepts and subject-specific competences. The materials are based on CLIL principles, and are content-led.
The policy of the project is mixed-ability, reflected in the approach of the textbooks. The books represent a genuine attempt to demonstrate the principles of CLIL through a variety of communicative and cognitively challenging activities that cater for all levels – whilst respecting the conceptual and procedural demands of the ESO 3 & 4 programmes.